AmericaNurse produces current educational and entertaining TV programs with outspoken experts and consumers. Up to date traditional, alternative, and optional health care discussions are led by Karon Gibson, R.N. New shows include makeovers, wedding segments, potential adoptive parent interviews, restaurant visits, and a variety of topics of interest to all ages, races, and genders. Find out where you can view Outspoken with Karon
Karon has been featured in People Magazine and various TV talk shows as publicity for her non-fiction "Novel", , depicting her nursing experience and adventures from the goldcoast to the ghetto, from her days at an inner city hospital as a student nurse, as an emergency room nurse, and as a nurse in the psychiatric unit of a community hospital, to running the first aid stations of major motion pictures and TV series such as The Fury, Dr. Detroit, Risky Business, and Lady Blue to name just a few. She was also the President of a home health care agency and private duty nursing service which pioneered the development of home care in 1973 before it was fashionable. She and her partner married Chicago police officers and they acted as private investigators assisting Karon's husband's private detective agency which led to exciting venues.

She is nationally known and Outspoken on hospital nursing, health care reform issues and various other topics in health care. She's experienced as a TV host since 1982 when she began Healthbreak - a short 15 minute spot on Multimedia Cable. She began her experience with the 30 minute show on Metrovision Cable in 1988 and at Time Warner as a local origination show focused on educating consumers. She has been recognized as Businesswoman of the Year by the Chicago National Association of Women Business Owners, and the Southtown Newspaper's Woman of the Year. She also received the Community Service Award from NurseWeek Magazine and the Citizen of the Year Award from the West Geneva Lakes Chamber of Commerce in Wisconsin.
Karon and her partner, Joy Catterson, were young, idealistic nurses - on their own. Through the perilous adventures of establishing a private nursing practice and dramatic court battle to regain their professional reputations after being fired by a powerful hospital, their book, , tells the astonishing, updated story of two women who defied the entire medical establishment.
2005 Business Living Legend Award
National Nurses in Business Hall of Fame
2002 NurseWeek Nursing Excellence Award - Community Service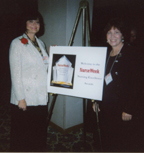 200l Citizen of the Year Award
from West Geneva Lakes Chamber of Commerce,
Lake Geneva, WI
August 7, 2002
1986 Woman of the Year
by Southtown Economist Newspapers
1984 Small Business Award
by a national accounting firm
1982 Businesswoman of the Year
by Chicago Chapter, National Association of Women Business Owners